Information about Grants
Each year the Foundation makes available approximately $240,000. This is used to provide grants and donations to the hospitals, aged care facilities and community services provided by the Presbyterian and Uniting Churches. Each church receives an equal amount for distribution.
Grants are determined by the Board of Trustees annually, usually in May, and paid early in the next financial year.
In following the objectives set out in our Trust Deed, each year the St Andrew's Foundation makes approximately ten individual grants of amounts between $10,000 and $35,000 – totalling over $240,000 this year – to health care and community service organisations and projects associated with the Presbyterian Church of Victoria and the Uniting Church in Australia Synod of Victoria and Tasmania, or to other community service programmes of organisations with similar objectives. We seek to support projects that are innovative in their approach to many of the social needs evident today.
Applying for Grants
Please see our Guidelines for Grants document. If you believe your organisation is eligible, use the Application Form provided.
Use our Reporting Template to let us know how your project went.
Recent Grants
Examples of grants in recent years include:
Asylum Seeker Welcome Centre to provide care, support, and aid for asylum seekers.
Barwon Community Care Hub, to help create a welcoming space for social cohesion and learning in Norlane.
Hotham Mission for its "Food for Thought" provision of food bags to needy families in inner North-West Melbourne, distributed through schools and community youth organisations.
Kirkbrae Presbyterian Homes to help meet the clinical, social and spiritual needs of retirement and high-care residents.
Prison Fellowship for their in-prison visits and post-release support program.
Sports Chaplaincy Australia (SCA) for their ClubCare Access program, which provides critical incident care to local sporting clubs in times of crisis and is working to develop a sustainable model for delivering sports chaplains to every Australian sporting club.
Stable One for their winter overnight shelters project, using church buildings from an ecumenical network of congregations for crisis accommodation.
Uniting Burwood East to support its Kidsplay counselling service for children experiencing social, emotional or developmental difficulties as a results of life experiences, trauma or mental health problems.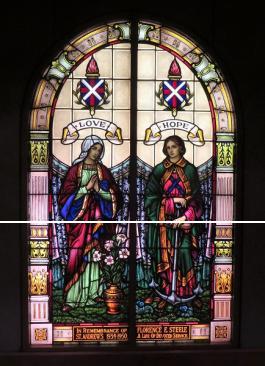 Through our grants we seek to further the trio of Christian virtues - Faith, Hope and Love. We invite you to reflect on this detail of a memorial window in the Chapel of the former St Andrew's Hospital building in East Melbourne.
© Copyright St Andrews Foundation